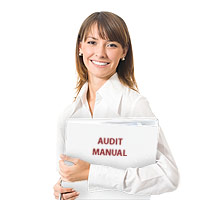 The Problem...
In today's world, it's not if you will be audited but when. Wouldn't you like to eliminate audit worries and concerns?
The Solution...
Introducing the new Audit Manual from HCSI. It provides you with all the necessary materials to ensure a hassle-free audit encounter, whether from OSHA, Medicare, HIPAA, or the Department of Labor (DOL).
HCSI has the only proven manual specifically for an audit. Hand it to the Auditor and he'll know your office is trained and compliant.
"I had no idea what to do about HIPAA. Thanks for an understandable solution."
"Your instructions for implementation made this otherwise confusing project an effortless task. Thanks."
After receiving your plan and manual, I told my doctor, I think I'm going to cry. This is just what I've been praying for!"
"Very easy to understand."
"Simple and easy to use."
"Remarkably user friendly."
"Thanks for the phone call. I didn't think anyone did that anymore."
"I called and actually spoke with a person, and the person actually gave me an answer."
"Where have you been while I was attending all those expensive seminars and coming away with pounds of documents - but no plan?"
"Better than anything I have seen. It's actually understandable."
"I saw it in a neighboring office. We had to have it!"